Course details
Reservation-only lunch course! 【Home-made thick roast beef and stone kiln pizza, authentic pasta plan】 2300 yen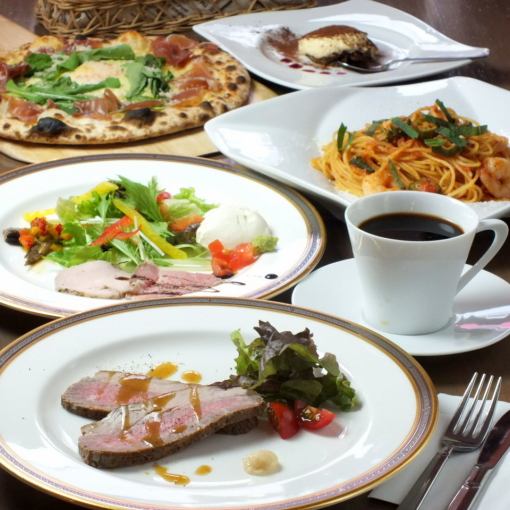 Reservation deadline

Until 11 o'clock on the desired shopping day
Available days for reservation

Monday - Sunday - Public holidays - Holidays
From 3 kinds of appetizers platter to stone kiln pizza, authentic pasta or risotto as well as a profitable lunch course with homemade thick-cut roast beef! After meals, we also enjoy our popular homemade mini dolce and authentic siphon coffee receive!
Course menu
Assorted appetizers 3 varieties
Assortment of three appetizers for one day
☆ Homemade chicken ham & pig ham
☆ Marinated smoked herring
☆ Homemade Italian Cheese and Tofu! Together with Wasabi
☆ thick cut! Homemade roast beef with soft loin
☆ Stone kiln pizza to choose from among 6 species
(Classic Margherita, Spicy Picante with Jalapeno, Fungi of plenty of mushrooms,
Anchovy and Olive Siciliana, mozzarella cheese Genovese,
Today's whimsical pizza, one from among)
☆ authentic pasta you can choose from 8 kinds, risotto
(Basil and mozzarella tomato sauce, raw ham and tomato peperoncino,
Dry tomato and cream sauce of mushrooms, Japanese style sauce and sesame sauce,
Smoked dumplings and green onion pepperoncino, grilled vegetable dry meat sauce,
1 dish from today's whimsical pasta)
☆ Homemade mini dolce
One day homemade mini dolce
(Homemade tiramisu, homemade rare cheesecake, homemade panna cotta)
☆ 1 cup after meals
(Authentic siphon coffee, tea, oolong tea, cafe au lait, cappuccino,
Coke, ginger ale, Calpis water, orange juice 100%
1 cup from 100% grapefruit juice)
Reservation is from 11:30 on weekdays (1 part) and from 13:00 (2 copies)
.
2019/01/09 update